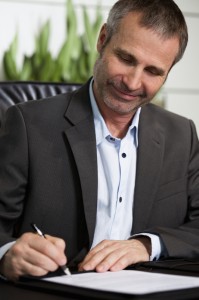 A great legal contract does two things:
It improves business, and
It protects you.
It improves business by creating a clear roadmap for everyone to follow. And it protects you with well-written, key legal terms.
Top Two Mistakes
Professionals and businesses make costly mistakes with independent contractor agreements. Here are the top 2:
#1: Spending No Money
Everyone knows this — you get what you pay for.  Yet many people use free legal contracts from the web. Ones that expose you to liability.  Ones that are outdated and written poorly.  And ones that can create conflict.
A 'free' contract isn't free if it risks your time and hard-earned money.  Would you put free tires on your car?  Of course not.  Don't do the same with your legal contracts.
#2: Spending Too Much Money
Lawyers are expensive. Ask one for an independent contractor agreement, and you may face a steep bill. Likely $250 – $500, depending on who you hire.
Fortunately, there's a great solution. Buy a great contract online — one that's reasonably priced, and one that's written by professionals.
Legally Protect Yourself
It's a fact of life — business deals run into trouble.  So regardless of your situation, you need legal protection.
For example, if you're an independent contractor, you need a contract that limits your liability. If you're a business hiring a contractor, you need a contract that caps your payments, otherwise your bills could keep piling up.
There are other items to worry about, too:  1) intellectual property, 2) confidential information, 3) non-compete/non-solicitation, 4) insurance, 5) taxes, 6) business licenses and permits, and 7) more. Make sure you're covered.
Improve Business
A great legal contract also improves business.  Here's how.
#1 — Better Collaboration
Business projects depend on collaboration. And collaboration depends on clear communication, which ensures everyone is on the same page.
 Compare the clear writing of our contract: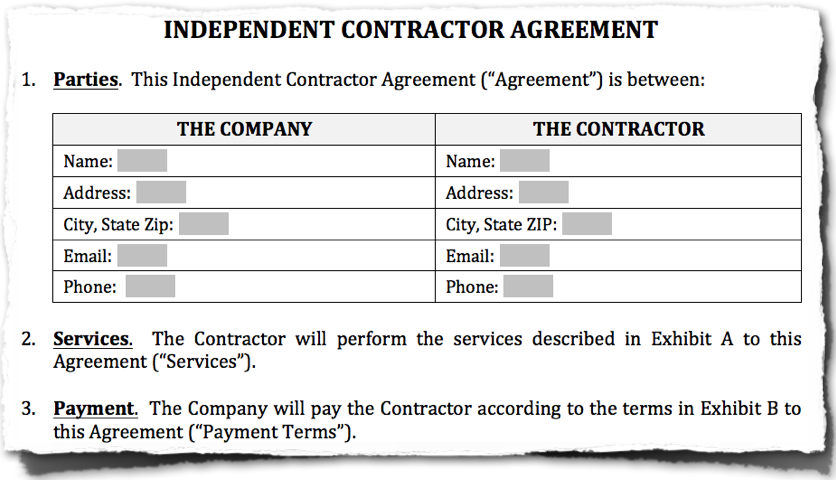 With the poor writing of this 'free' one from the web:
The 'free' contract is a hard-to-read mess, likely to lead to more problems and not better business.
#2 — Roadmap
You use a map to get to a new destination.  Why not do the same with your business?
A great contract is just that — a business roadmap. It tells the parties where to go and how to get there. It helps them avoid potholes and, when needed, reroutes them back on track.
Our contract provides a clear roadmap for both businesses and contractors. It helps you create a clear scope of work and makes sure you have clear deadlines and milestones.
The Solution
Here's where we come in. Our team of attorneys knows how to write great legal contracts — contracts that are easy to use, and contracts that help businesses.
The result is a top-notch independent contractor agreement that you can download and begin using immediately.
Other Benefits
Options for Businesses

.  Are you concerned about your intellectual property? Proprietary information? Business risks? We've got you covered with 22 contract clauses for businesses that will help you tailor your contract in minutes.
Options for Independent Contractors. Are you worried about getting paid? Losing your intellectual property? Unlimited liability? We've got you covered with 18 contract clauses for contractors.

Easy

. Our agreement is written in easy-to-understand English, and it comes with a User Guide. You'll receive it in in Microsoft Word (.doc) format, and you can complete and finalize the document in minutes.
9 Negotiation Essentials (a $9.99 value, YOURS FREE)
Many business deals are killed by poor negotiation skills. Don't let the happen to you.
Buy your Independent Contractor Agreement today, and you'll receive our free 9 Negotiation Essentials booklet.
Two Great Choices
The Basic Package includes our Independent Contractor Agreement, a User Guide, our FREE 40 Contract Clauses, and our FREE 9 Negotiation Essentials booklet for only $14.95.
For only $5 more, order the Deluxe Package and receive the Basic Package PLUS
Amendment Form — To change your agreement during the project
Termination Letters — To legally end your agreement early
27 Sample Business Emails — To help you communicate
Order today and start your project out on the right foot!
Our Guarantees
100% Satisfaction — We're confident that our Independent Contractor Agreement is one of the best out there. To prove our confidence, we offer a 30 day money back guarantee. If you're dissatisfied with the bill of sale for any reason whatsoever, email us at Nathan@Kontractor.com within 30 days of your purchase and we'll give you a full refund. There's no risk to you at all – order now!
Privacy — We know you're a busy person and the last thing you need is email spam. We fully respect your privacy and will NEVER sell or give your personal information to anyone or any business for marketing purposes.
Order today and protect yourself!
Disclaimer
Purchase of the Basic or Deluxe Package is subject to our terms and conditions.